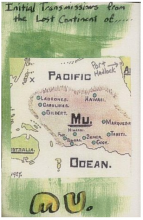 i first met mark rubin in the late eighties. we spent about 15 or so years at arm's length, in a van... on a tour that seemed to never end. what i've always appreciated about him was his love of music. it's a very comforting thing, as a total music freak, to meet another, even if the music that you like only intersects briefly on the metaphysical venn diagram. music freaks like us can endure most any of life's tragedies, as long as the right song is playing nearby. there aren't a lot of us, and we bond for life.
in the post bad liver years, i guess all three of us went off to do the music that was in our hearts, and that's good. in mark's case, it was really cool to see him develop into a band leader, singing and playing solos on melody instruments. his latest concept is the atomic duo, a folk type duo [with the great silas lowe], featuring original songs played on acoustic instruments. so they were on a tour and came over to my house and i produced a recording for them, called initial transmissions from the lost continent of mu. these are the recordings, straight from my living room with very few mics and my precious bleed-over abounding. what's great about their music is they could set up in a bus station bathroom and it would sound great. it's very portable!
the idea is that we would record a set of the atomic duo, and release a limited edition run of 200 sequentially numbered cassettes.
- - Side A - -
Centralia
SB1070 Blues
Norman's Folly
One Gun, One Vote
Standing on Jesus
- - Side B - -
All I Can Give You
Rabble Rouse
Seriously
Gov. Walker
So Long Baby